About Us
---
R.M. Lagace & Sons Inc. is a family owned, second generation, full service building contractor and renovation expert serving Middlesex and New London counties. We are fully insured and licensed by the state of Connecticut.
President Richard Lagace Jr. and his team are committed to providing excellence in craftsmanship and complete customer satisfaction for each and every project.
With our knowledge, experience and ability to fulfill your design/build, or renovation needs, we deliver superior construction projects that are both on time and within budget. We employ only the most skilled craftsmen and our long standing relationships with them ensure quality and timeliness.
We're an active member of the local and state Builders and Remodelers Association of Connecticut as well as the National Association of Home Builders. As an EPA Lead-Safe Certified firm with extensive experience in the handling and disposal of lead based paints, the safety of our clients' environment is a top priority.
What sets R.M. Lagace & Sons apart:
---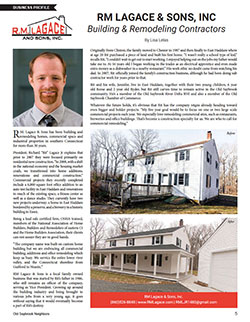 We value long-term relationships with our clients and strive for 100% satisfaction.
We build energy efficient homes/additions that meet or exceed industry standards and save you money.
We treat our clients like family and their property as if it were our own.
We take pride in our work and strive for the highest quality workmanship.
We are reliable honest and maintain a high level of integrity.
We provide thorough, highly detailed proposals to avoid surprises and extra project costs.
We have a network of skilled, reliable trade professionals.
We stay up-to-date on the latest industry methods, technology, materials and standards.
We care about you!
We initially hired Rit Lagace ten years ago to build an addition to our house. The addition was for my mother. Rit was very kind and accommodating to her all through the process, and even started calling her Grammie. He improved the plans we designed with the architect. We liked his work so much we continued to hire him for other home improvements. He replaced all the windows in our house, remodeled our kitchen, family room, and our guest bathroom. Every home improvement project Rit has completed for us has been the highest quality. He discusses every detail from start to finish, so there are no surprises when the final project is completed. When faced with a design problem, Rit has very creative solutions. He is also very open to our ideas and never makes us feel like our input is unwise or impossible. Rit is very easy to get along with and absolutely respectful. He has excellent work ethic and is very patient. He listens to our ideas, gives input, and problem solves as a team player. Without hesitation we would recommend Rit Lagace. We are and will continue to be loyal customers. Rit is someone we trust, and he has earned that trust through all the years he has worked for us.

- Toni, East Haddam
Our History
---
After a successful career in manufacturing and over a decade working for other builders doing renovations, Richard Lagace Sr. (Dick) was ready to start his own business.
In 1990, upon completing the construction of a new home for his brother in Farmington, CT, Dick launched his home building business.
With his sharp focus, Dick developed a strong reputation for quality work and competitive pricing that allowed him to build 3-4 homes per year in the 1990's and well into the 2000's.
Having worked alongside his Dad since he was 6 years old, Richard, Jr. (Rit), started out as an electrician but quickly moved into carpentry. Rit joined the company and developed the renovation and remodeling side of the business.
Together, they maintain their vision and reputation for top-tier service, workmanship and client satisfaction.